Team Ides - Badge Sales
---
DEF CON 27 Unofficial Badge: da Bomb - DEFCON PICKUP
Looking for support for your badge? You can get everything you need on the Team Ides da Bomb support site!
Ordering Information
As it's now DEF CON WEEK, We are no longer taking online orders. Please come find a team member at DEF CON and we will sell you a badge in person. Prices will be approxiatemly the same ($125) at the con.
Pickups will take place at the HHV in Bally's starting around 11am on Thursday, August 8th, 2019. All you need to bring is yourself and the order's e-mail addreess. More details will be posted to our Twitter at @spqrbadge
We will e-mail you a QR code and instructions for Pickup. We've already sent out a first pass of QR codes and we will send all of them again on Monday, August 5th.
If you fail to pickup the badge, we will ship it to you after DEF CON, at your expense. We reserve the right to resell orders left behind for more than 60 days.
As seen on Kickstarter!
Demand was very high for our badge, and we raised over $30,000 on Kickstarter to make this thing happen. We're giving you a second chance to get one before DEF CON.
You can watch our fun 1940's style video and get more information right here on Kickstarter.
The badge will come with:
Fully assembled and programmed PCB
Display module and 4GB MicroSD card
Custom Lanyard
Custom box
BONUS Sticker Sheet (while supplies last)
What will the final product look like?
The pictures we have above are photos of our prototype badge. The final rendering, which is a red soldermask on matte black background, is what the final badge will look like. We will not be shipping red boards to you. Black only.
They will look something like this: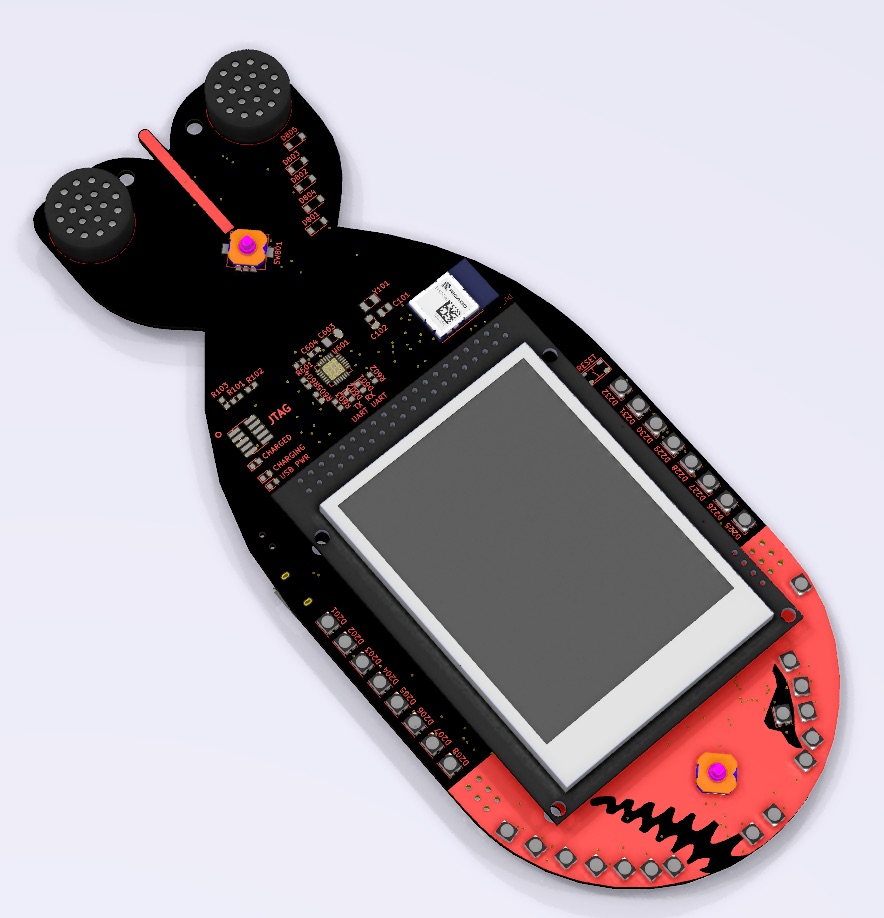 What is this thing?
If you're unfamiliar with electronic conference badges, they are usually some sort of printed circuit board badge that you wear on a lanyard. They're filled with puzzles, easter eggs, and all of cool toys that hackers love. They also act as a development and educational platform, encouraging people to learn about hardware development and manufacturing.
While DEFCON has their own official badge each year, #badgelife groups have been rolling their own badges to show off their skills in a sort of unofficial contest.
Badge Hardware
Our board is packed with features! It's a full computer, display, and sound system in a custom bomb-shaped board that's guaranteed to piss off the TSA on the way home.
A new micro controller, the Rigado BMD340 - 64MHz 32-bit ARM® Cortex™-M4F CPU with 1MB Flash & 256kB RAM
650mA LDO (3.3v) and charging system
Complete Bluetooth 5.0 and Thread (802.15.4) solution, for badge-to-badge battles!
ChibiOS real-time operating system
24bit/96Khz STEREO Audio driven by the CS4344 DAC and LM4880 200mW Stereo amplifier.
Two 87dB Speakers
320x240 detachable TFT touch screen with Micro-SD port
4GB MicroSD card containing our game code
CP2102 UART - Low cost USB Interface
JTAG (SWD) programming interface
32 RGB LEDS driven by a dedicated I2C LED controller to save battery and CPU. No more heat-busted neo-pixels to deal with!
2000 mAh LiPo battery with full MAX73833 1 Amp USB Charging circuit
Surface mount design with limited through-hole parts.
Dual Joysticks with 5 inputs each!
Badge Functions
Many LED pattern modes. Such blinky, so wow.
LED Dimming so it doesn't blind you.
Badge to Badge Sea warfare/bombing game with multiple levels and RPG-like attributes. Level up and battle your friends!
Video playback with synchronized audio (We're seeing around 18 FPS right now on the new code!)
Digital Audio playback, audio amplifier, and speaker.
All specifications subject to change at any time based on market/part availability
What makes our badge different?
This is a lightweight system with a long battery life, and the battery itself is rechargeable! You don't have to run around the conference trying to find AA batteries or other strange and rare camera batteries, which many badges run on.
What's this game all about? Why a Sea Battle?
We really liked watching people battle each other at DC25. We want to keep that going and thought that a Sea Battle game might be fun, based on your votes on our Twitter account.
The game is full color, with animation, and has been developed by our game designer, Egan, who worked on many AAA game releases. John's writing the software, Bill has done extensive work to bring the board and drivers to life.
Other software?
The board will also have easter eggs, a crypto puzzle, radio chat system, setup screen, and more. If you access the console via FTDI/USB you might find some more things to play with, but we'll keep that a secret for now!
No warranty, No refunds. Exchanges and repair assistance only.
While we will make every effort to QA and test your badge before handing it over, issues may arise that we cannot control.
Refunds will only be issued in the event that we cannot produce a functional device in time for DEFCON 27.
You understand and through this purchase agree that that this is a limited edition piece of experimental hardware for the hacker community and not a finished, commercial, consumer-grade product.
All schematics and source code will be available online at https://github.com/netik/dc27_badge for repair assistance or other hacking.